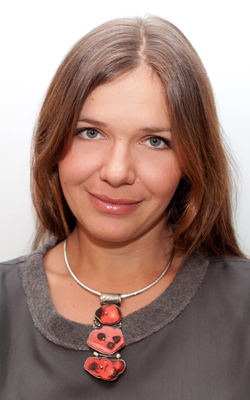 I suggest I introduce myself first, as I think it is important for travellers all over the world to feel comfortable with those with whom they spend their holidays. In this way you can decide for yourselves whether or not you will feel comfortable with me!
My first name is very simple – Julia. My last name Onichtchenko is difficult to pronounce for foreigners, as it is of Ukrainian origin. I was born and brought up in Moscow and have experienced different epochs. From the recent past I can tell you about life in the Soviet as well as the modern era, when people more often talk about oligarchs and politics.
Following graduation at two universities and once finished with my optional guide school training in Moscow, my hobby became my profession. I have passed the special tour guide qualification courses in all the museums in Moscow to acquire the special licences which enable me to give private guided tours in my hometown, Moscow. Annually I attend advanced lectures to keep me up to date and to give rare customised tours in the museums.
In the last 18 years I worked as a German and English speaking private tour guide not only in Moscow. I accompanied groups on the Trans-Siberian Railway (Moscow-Beijing, Moscow-Vladivostok) as well as on river cruises from Moscow to St. Petersburg and to Astrakhan. I have also climbed the highest mountain in Europe, the Elbrus (18,510 ft) in the Caucasus (Russia), with climbing guest groups.
I would like to thank all of the customers, who have placed their trust in us. I keep carefully your kindly emails, letters, photos and I would ask you for your understanding, that from thousands feedbacks I can place in my guest book in internet only 3-4 entries per year.
I hope you also will set your heart on discovering Moscow and Russia and I shall be only too happy to portray my beloved hometown, Moscow, from my point of view.

Best regards from Moscow,
Private tour guide in Moscow,
Owner of IWIR Travel Agency in Moscow,
Julia Onichtchenko
Contact
Email: julia@iwir.ru, mobil: +7 916 854-17-29
Guest book

07.01.2015 г.
Irina Vasquez Sandoval
Personal assistant to Rosevrobank Director
Dear Julia, I cordially congratulate you with Christmas! Thank you for your many years of work as an interpreter with the members of ROSEVROBANK board and individual approach to VIP-customers. We look forward to our continued successful cooperation, since in your professional and personal qualities you are a unique specialist.

06.10.2016 г.
Vassos Criticos
Director Chester Group (South Africa)
Dear Julia, Thank you on behalf of our entire group for the in depth tour of beautiful Moscow. Your knowledge and attention to detail of each site kept our entire group constantly engaged. It was a pleasure having you with us through all the historical sites as well our tours and adventures. The language barrier would have been insurmountable in bars, restaurants and any tourist site and the pleasure of your travel company made the trip even more sensational.
Should you wish to include a Russian adventure to your tour, AK47 shooting and Tank Lessons are a must. Our group thoroughly enjoyed learning about Russian military equipment and getting the opportunity to actually shoot a variety of weapons, including the famous AK47 machine gun. The Russian bunker is also a must see should you wish to understand the atmosphere experienced by Russians during the Cold War.
Overall a thrilling and interesting experience made possible by having the right guide. I would highly recommend your services to anyone looking to visit Russia.

11.06.2013 г.
Dr. Porsche
Chairman of the Supervisory board of Porsche AG.
For me it was a wonderful tour inside of the Kremlin palace, and it couldn't be a better one. Especially impressing is the perfect German by Ms. Julia Onichtchenko, her charming and humorous nature. Your enthusiasm and lyricism and exaltation way of telling and your guiding in Moscow will for ever and ever remain in my memory. I can only recommend you to be considered for further employment opportunities.

07.01.2013 г.
Dr. Norbert Richter
General Direktor Caparol
Dear Julia,
I would like to thank you on behalf of my guests for the great tour inside of Kremlin, the Armory museum and especially for very interesting remarks on the various sacral buildings. Although we thought already to know a lot about the Kremlin, we have been told so many new things and explained - that again a deep gratitude to you.
For this year 2013, I wish you that you continue to attract so competently with your nice and pleasant way many visitors to the city of Moscow and Russia, through the beautiful Russia and thus give a different picture for this country. Sincerely, Dr. Norbert Richter (7th of January 2013).
Contacts

Julia Onichtchenko
Private Tour Guide in Moscow
Owner of Moscow Travel Agency IWIR

26-1-21 Sokolovo-Mescherskaja,
Moscow, 125466, Russia.
(Reg.Num. 311774632600351)

Email: julia@iwir.ru
Phone: +7 916 854-17-29
WhatsApp: +7 916 854-17-29